What Did I Forget This Time?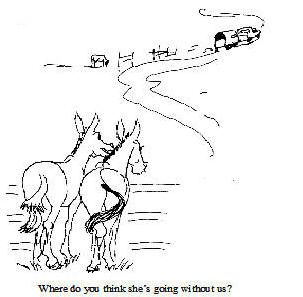 by Leah Patton
No matter how carefully we plan, we always seem to forget something when planning a trip. Here is a short list of some things that are most often overlooked:
Check trailer hitch and make sure it is tight.
Check air and tread on trailer tires.
Make sure all plates and stickers are current on car/truck and trailer. Check trailer interior for rotted boards, holes in the floor, slipped mats, etc.
Make sure all doors latch properly.
Do a walk-around on your truck and make sure all lights work, and if an oil change or tune-up are close, go ahead and do it before your trip.
Make sure any reservations are made and confirmed, and put a set of directions to the site with a current map in your vehicle.
Write down numbers you know you can call in case you get lost.
At least a week before your trip, make sure you have current health papers. If not, they may have to be sent to a lab for results and that can sometimes take 3 or 4 days.
If your animal is shod, you might want to shoe a week before the trip to let them get used to the new shoes - a fresh trim right before a ride is not always the best way - know your own animal and how they will respond.
Did you pack:
Picket Ropes or Tie-outs
Feed for Animals?
Tack?
Grooming Tools?
Emergency Kit?
First Aid Kit?
Clothing for Self? (Your Riding Boots and Pants Too?)
Food?
Health Papers for Animals?
Wallet, Car Keys,
Money?
Make a list, check off as you pack, and cross off as you load. This way you can double-check yourself and make sure nothing vital was left behind. Don't laugh - the number of people who have made it to a three-day event without their saddle or bridle is rather long.... but above all, don't forget the most important thing - Your MULE!