TRAILERING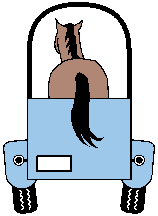 When trailering your mules, it is a good idea to be aware of rules and regulations regarding the transportation of animals and the regulations of the trucking industry that may apply to you. Each state sets its own regulations and it's up to you to make yourself aware of these laws. Check with each state you will be traveling through in regard to the some of the following concerns.

Weigh Stations
Sometimes we think the weigh stations are only the concern of the eighteen wheeler that just passed while pushing you onto the shoulder. Think again and don't ignore them. Weigh stations are used to regulate the commercial truck industry, but can also be used for non-commercial vehicles as well.
State agricultural departments can use these stations to check health papers and brands and require you to pull in for your certification to be examined. And states can also use these stops to check for safety requirements, registration and driver's licenses for non commercial vehicles.
The term "trucks" may include your pickup and your hauling rig's total weight may require that you be treated as commercial. If you exceed 10,000 pounds in the combined weight of towing vehicle and trailer, you need to check laws to see if you are considered commercial. Check the Federal Motor Carrier Safety Regulations which do apply to drivers of horse trailers with a few exceptions. Check each state's requirements in regard to your situation. Most of the time you will be waved through station, but failure to obey the signs to stop may carry fines and points against your license.

Size Restrictions
There is height, width and length restrictions in each states. This can affect the speed limit at which you are allowed to travel as well the availability of access to some roads in a state.

Equine Health Requirements
Each state has its own requirements when it comes to Coggins and health certificates. If you are traveling through a state, you must meet their regulations and some health restrictions change often. If you have questions, as your veterinarian to contact the states you are traveling through or check them out on the Internet. Always call ahead, not only to make sure you have the correct documentation, but also to find out if there has been an outbreak of disease or a quarantine in effect for a state.
Failure to have the needed health paperwork can result in the quarantine of your animal in the state you were passing through, impounding your rig and perhaps fines. This is all costly in money and time. A good rule of thumb is to meet the requirements of the strictest state you are passing through.

Safety Equipment for Horse Trailers
The Federal Motor Carrier Safety Regulations prescribe the U.S. Department of Transportation Federal Highway Administration's requirements.
Different regulations apply to trailers over 80" in overall width and trailers under 80" in overall width and includes light, reflectors, turn signals, hazard warning lights and safety chains, just to mention a few.
Most states require trailer brakes on trailers with ate least two wheels with one axle with a gross vehicle weight under 3,000 pounds and breaks on all wheels with two axles over 3.000 pounds GVW.

Trailer and Truck Maintenance
If the tires show wear, get new ones. Get new ones if they are seven years old or older. Have wheel bearings packed with grease. Examine hitch and electrical hookups. Check wood floors in trailers and replace torn or worn mats. Have a tune up done on the truck.

Plan an Itinerary
Decide how far you are going to haul each day and where you will stay the night if your trip covers a number of days. Overnighting can be arranged at fairgrounds, racetracks, rodeo grounds, road side rest areas, and stockyards. There are also Bed and Breakfasts and private barns that also provide this service. Usually, the chamber of commerce of a city can tell you if this services are available in their area.
Once you make plans, stick to them unless there is an emergency. Everyone's trip, including the mules', will be more enjoyable if rest stops and overnight stops are planned. You want everyone fresh and in good spirits when you arrive at your final destination.

Time in the Trailer
Studies have shown that chances for respiratory infections for equine skyrocket during transportation. Even in well ventilated trailers. Bacteria grow rapidly in trailers that are standing still while their growth is curtailed during traveling. Limit stops to short ones which allow the mules to lower their heads, get their legs back and urinate if they are the kind that do not like to relieve themselves while the trailer is moving.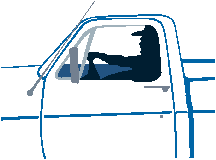 Offer mules water two or three times a day while transporting. Some mules may not drink while on the road so it might be a good idea to flavor the water two or three days before leaving home. Than mix that flavoring agent in the water on the road. Or, bring some water from home for traveling. To prevent dehydration, carry electrolytes with you and put in the mule's water for the entire trip.
How long a mule can be hauled before unloading or stopping for the day is determined by his tolerance to traveling. Generally, if you're tired of traveling, your mule probably would like a break, too. When traveling to a trail ride, remember you want your mule rested so he won't be too tired to enjoy the trails with you.